Mobility Labs Visits a Rural School Using Escuela Nueva
---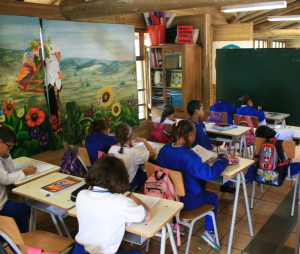 The school is set in a lovely rural environment and the students come from all backgrounds. We talked to parents who told us:
Students who transfer out find that they actually are more advanced than other students in their new schools.
Though the rural parents often send their children just to learn reading and writing, the students became enthused about the whole of education
Students were more likely to do homework by themselves because the materials are engaging.
The institution we visited also incorporates local traditions and culture into the guides. For instance, because Santa Elena is a center of the flower industry, flower names are used to teach the alphabet.
Elementary level teachers told us:
The multi-grade approach can be hard to manage, but students learn a lot by working in groups and with each other.
The teachers have to adapt the guides from the escuela nueva model in order to teach the reading and writing process.
The role of the teacher is to be a guide and clarify doubts the students may have.
We also talked to the school director, who pointed out that children with disabilities are included in regular classrooms and other students help them achieve positive results. We also observed several students with disabilities who appeared to be fully part of the groups working on the modules.
The children had a lot to tell us as well.
They found that the escuela nueva guides were easy to use and helped them learn on their own.
Working with others is especially good because they can share ideas and knowledge.
Our conclusion is that, at least at the school we visited, escuela nueva is well-received by everyone involved in the school process. The students participate in the same national tests and perform as well as students from urban districts. The model is well adapted to the rural environment, and allows students to have an opportunity for a better education than would otherwise be possible.
---