The Winter of Our Retreat
---
The New Development team (Jason, Nephi, Julio, Brian, and Rick) created an Image Hosting/Commenting service called Skimg. Julio, Brian, Jason and Nephi worked on the code while Rick worked on the design.
The Nu's Treehouse team (Candy, Vivi, Johan, and yours truly) developed a literacy activity based on the world of Nu's Treehouse. We thought about the narrative elements and included the characters Claude (a Parisian baker) and Nu in the activity. The game's goal is to get kids to recognize cooking items associated with the beginning sounds of words. We designed it to work in both English and Spanish. We put together the critical path, interface texts, and recorded the voice-overs, while Sean and Johan worked in the code. At the end of the retreat, we almost had a complete product. After adding illustrations and some tweaks to the code, we had it ready in March for our SXSWedu talk.
We also had some leisure time at the lodge. Vivi, Julio, Rick and Sean played Dead of Winter, a storytelling-driven board game that "tests a group of survivors' ability to work together and stay alive while facing crises and challenges from both outside and inside". It was the perfect team-building activity, until they exiled Sean form the colony. I enjoyed hearing them enact all the different characters, trying to survive among diseased, flesh-craving zombies.
One night we played the game Kings. The US team introduced the Colombian team to this quintessential American drinking game that uses playing cards. Each card has a rule predetermined before the game starts. Some of them were ridiculous (we often forgot to take off a tiny man from the beer can before drinking, and put him back in after) and some of them hilarious.
Snow Beginners and Advanced Players
On Monday afternoon, a man and a woman entered the lodge carrying body bags. That's what we saw; in reality, they were bringing our ski and snowboard equipment. They set-up our snowboard bindings according to our height, weight, and riding preferences. The guy asked me if I stood regular or goofy. I didn't know the slang, so he asked me to stand with my feet together and pushed me from behind. I naturally put my left foot out. "Regular," he said, explaining that that was the position I should use to go forward when snowboarding. He showed me instructed me on how to strap the boots. We stacked the boards in the mud room and got ready for the first night in Breck.
On Friday, after having carrot muffins for breakfast (thanks, Candy!), we were ready for snowboarding. Almost ready, I should say: Jason and Johan had so much fun hitting the slopes they needed that Friday to recover. But Vivi was feeling better, she'd compensate for their absence. Sean and Julio decided to take the T Bar, one of the most famous lifts in Breck, surrounded with signs that read "expert terrain only". Instead of a chairlift, they had to ride up on an inverted T-shaped bar. It's not easy to hold to that bar, and people try different techniques to accomplish a good ride. Sean and Julio told me that at one point, Julio was dangling from the bar, his butt rubbing on the snow, a ride so amusing that some passing skiers recorded it.
Urban Adventures

Coincidentally, Monday night was also the night of the Super Bowl 50, the big game of American football, which determined the champion of the NFL for 2015, and Broncos, a team from Denver, was playing. I noticed how important the game was. People repeatedly shouted "Go, Broncos!", and wore the team's uniform and were really excited. Part of the Mobility Labs team went out to watch the game at a local bar, but it was packed, as was every other place showing the game, so they bought food and drinks, returned to the lodge, and turned on the TV. The rest of the team went out to the see the winners of the Breckenridge International Snow Sculpture Championship. Although all the sculptures were impressive, a piece that depicted a 14-year-old science whiz Rhonda riding inside her invention to clean the ocean floor stood out. It was a deserved winner, and a fine example of design fiction, a topic I was going to talk about during the retreat.
We made several outings in cars. One day, we parked on Main Street, enthralled by the 100 year-old steep-pitched Victorian buildings, now converted into shops, bars, and restaurants. Walking along the sidewalk, I felt like a character in a snow-globe enacting a scene. We entered the Swiss Haven, a cozy fondue restaurant. After our meal, having eaten so much cheese, we didn't have to say that word to smile when our entertaining waitress offered to take a picture. Nephi and Brian had to cut out early, so this turned out to be the only picture we took of the entire team.
I left my board sitting in the rack, entered the Ski Hill Grill to ordered a Gatorade, and sat out to relax on the plaza patio. The team had distributed in different slopes with the plan to meet in the patio later. So I waited. A long time. I imagined they were having so much fun in the steeper slopes that they had forgotten about our original plan. Although I had a cell phone with me, I couldn't text or call anyone because I didn't have any data. It was getting late. I entered the restaurant, looking for a free Wi-Fi sign, but there was none. I asked the waiter, and he was kind enough to share one with me. As soon as I connected, I received a message from Vivi. "Where are you? Everyone is here already." Free rides go up until 5.00 PM, so I grabbed my board and run down the stairs to catch the last bus. I managed to get in. "Do you go to Sawmill?" I asked. "Yeah, Sawmill," the driver said. I had the lodge address written in a piece of paper, just in case.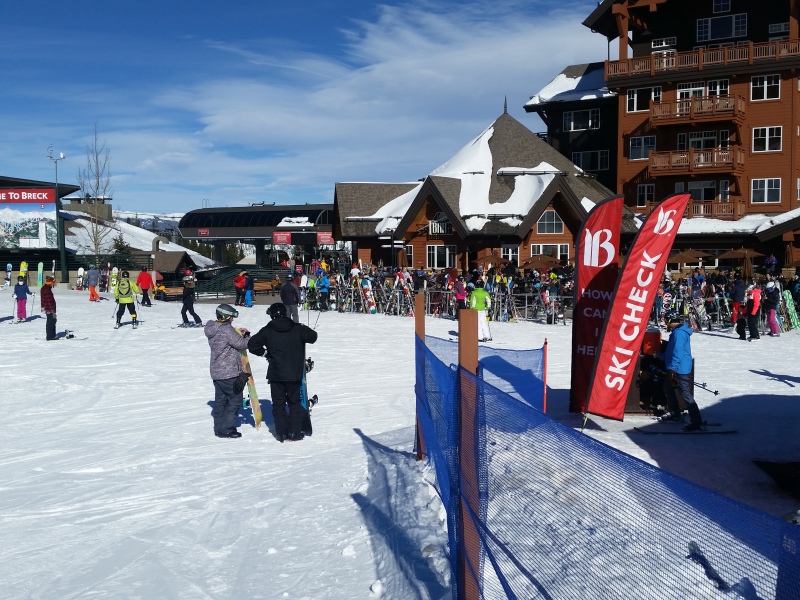 "Sawmill!" the driver yelled. "Thanks," I said, getting off. I looked around but didn't recognize the place. It was Sawmill, but not "Sawmill Road". A sign said it was "Sawmill Creek Condominiums". Everything was very quiet, except for a family making a snowman and a skier gliding down the hill very fast. Looking at my phone, I found a main street nearby. Maybe I could find a taxi there. I walked all the way to that street and found a lodge. It was getting cold and late, so I entered.
"Can you help me find this address?" I asked the receptionist, showing him the piece of paper. He was busy talking on a phone. "I'm kind of lost," I said. He hung up. "I know where that is," he said, squinting. "But it's not within walking distance." I asked him if he could help me find a taxi. "Sure," he said, picking up his phone. He spun a pen between his fingers while waiting on the line. Finally, he said: "No answer. I'd suggest you call an Uber." I explained my phone didn't work in the US. He stayed silent for a while, then picked up his cell phone, and talked really fast with someone. "I'm gonna make an exception with you," he said, writing a name on a piece of paper. "Our private shuttle service is gonna pick you up in 15 minutes. You need to stand in front of the liquor store and a black SUV with this name on its license plate will stop. He'll take you to your address." The shuttle took me back to the lodge, and when the driver was handing me the snowboard, I run into Johan, who had gotten there on foot. "Don't ask," I said.
After getting lost, I was comforted by Rick's Thai noodle soup, which was the perfect after-snowboarding food.
So Hard to Say Goodbye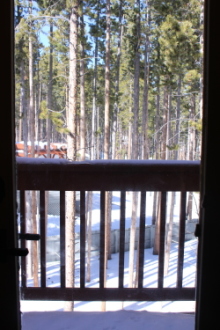 On Friday afternoon, we packed and got everything squared away before leaving. We turned quiet and silent, a feeling I can only describe as the "pre-post-ML-retreat blues." Everyone was sore and tired, but we wanted more, so we entered the hot tub. Nothing was more relaxing than submerging your body in that hot bubbling water. From the angle where we were sitting, the sun's rays hit snow-covered roofs and made them sparkle.
It was the perfect setting for something memorable. Julio had an idea: On the last retreat we went scuba diving; why not try snow diving this time? Sean jumped out of the hot tub, laid on his back‒mouth and eyes wide-open‒made some angels in the snow-covered patio, and jumped back in. If I can choose a fun snow-globe winter scene from the retreat, this might be the one.
---